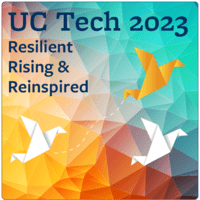 UC Tech Week returns for its 41st year from July 17-19, bringing technologists from across the entire University of California system to celebrate and promote innovation and collaboration. This year's conference is being co-hosted by UC Berkeley and UC San Francisco and will be held in a hybrid format, with events on both Berkeley's campus and virtually.
This year's theme is Resilient, Rising and Reinspired as a reminder of the agility that technology professionals working in higher ed face during these tumultuous times and a shifting educational landscape. UC Tech welcomes all UC staff and faculty interested in or associated with technology and will include a range of presentations on everything from technological innovations to project management and more.
To register for the conference, view the schedule of events, apply for travel funding, and learn more about UC Tech and its storied history, visit their website!